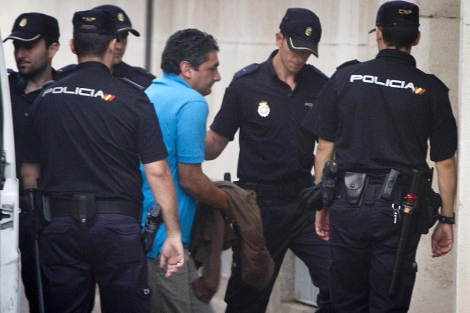 SEVILLA
(
El País
and Agencies) Juan José Cortés, the father of Mari Luz Cortés, a five-year-old girl whose
2008 abduction and murder
in the El Torrejón neighborhood of Huelva shocked the nation, was on Wednesday arrested in the same area of the city following a shootout between the Cortés family and that of his wife, Irene García. He, and all the rest of the acused in the case, were released 'with charges' yesterday, and will have to face charges. The incident took place at around 2.30am on Wednesday morning for reasons as yet unknown to investigators. Those involved used shotguns and one person was taken to the hospital with a head wound before being subsequently discharged. Four further members of Cortés' family - his father, his brothers Diego and Francisco, and a brother-in-law - were also arrested.>>>
IF YOU FIND THIS ARTICLE INTERESTING, USEFUL OR ENTERTAINING, PLEASE CONSIDER THE WORK, EFFORT AND COST IT TAKES TO BRING IT TO YOU. WE WOULD APPRECIATE A DONATION TO CONTINUE A FREE SERVICE.
Juan José Cortés is a Pastor of the Evangelical church, known as El Culto among its principally gypsy congregations that extend all over the country in the poorer neighbourhoods. One source, elplural.com, says that the incident began when a family member wanted to take control of the church in the Huelva area where Cortés lives.
The other man, apparently Cortés's mother's brother, demanded the control of the money from the Torrejón church, which Cortés refused to hand over. Arguments went on and escalated, ending in the appearance of shotguns being fired against one of the family homes.
The Mari Luz case stunned the country due to the barbarity of the crime committed and the judicial errors that preceded it.
Santiago del Valle
, a convicted pedophile who had been sentenced to almost three years' imprisonment in 2005 for sexually abusing his own five-year-old daughter in 1999, and who had also received a two-year sentence for abusing a nine-year-old girl in 2002, turned out to have avoided prison due to judicial bungling.
The Seville judge who failed to execute the jail sentence against Del Valle, Rafael Tirado, was fined a mere €1,500 by the General Council of the Judiciary. A court secretary was also suspended for negligence. Both later left the legal profession.
On January 13, 2008 Del Valle lured Mari Luz to his home in El Torrejón and knocked her unconscious when she resisted his attempt to assault her. Mari Luz's body was discovered 54 days later in an estuary outside Huelva. Del Valle was sentenced to 22 years on charges of murder and sexual abuse in March of this year.
After the disappearance of Mari Luz in 2008, Juan José Cortés launched a national campaign to force through changes to the Penal Code to allow for tougher sentences against pedophiles. In May of that year, two months after Mari Luz's body was found, he met with José Luis Rodríguez Zapatero at La Moncloa where he received a promise from the prime minister that reform would be pursued; a promise, Cortés said later, "that he never honored."
Cortés was affiliated with the Socialist Party until 2010, when he announced he had been in talks with the UPyD centrist grouping with a view to standing in primaries for the mayorship of Huelva.
The Popular Party (PP) later announced it had taken Cortés on as an independent advisor in judicial matters, specifically to work with the opposition party in the Penal Code reform that was then moving through Congress. "The important thing is to bring about a just and reasonable struggle in view of the fact that the majority of citizens support a change to the Penal Code," Cortés said at the time.