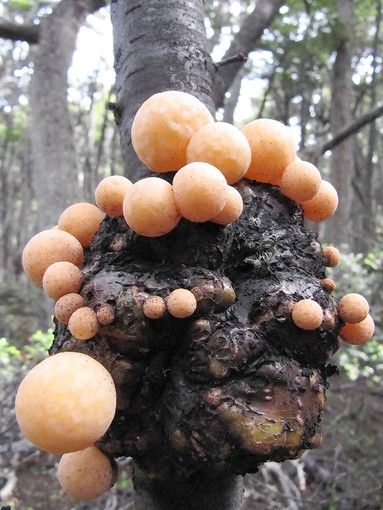 Saccharomyces eubayanus
A team of international investigators recently identified the yeast that apparently travelled some 11,000 kilometers to get into some caves in Bavaria and thus created the microbiological fusion that today sustains the beer industry. At least that is what it says in an article in the 'Proceedings of the National Academy of Sciences' written by a team from Portugal, Argentina and the USA, which describes its discovery of a wild form of yeast in the beech forests of Patagonia. The discovery apparently solves the ancient mystery of the origins of yeast that makes it possible to brew the ubiquitous beer known as lager. The articles goes on to give a little history: In the 15th Century, when Europeans began moving people and merchandise across the Atlantic,>>>
IF YOU FIND THIS ARTICLE INTERESTING, USEFUL OR ENTERTAINING, PLEASE CONSIDER THE WORK, EFFORT AND COST IT TAKES TO BRING IT TO YOU. WE WOULD APPRECIATE A DONATION TO CONTINUE A FREE SERVICE.
a microscopic stowaway made its way to the caves and monasteries of Bavaria. It, and presumably its many mates, could have come to Europe on a piece of beech wood or in the stomach of a fly. Soon enough, there was a fusion with a local, domestic variety of yeast, a distant cousin (close cousins were out, according to the Church at the time) that had been used for centuries to make bread, wine and other kinds of beer.
The resultant hybrid, says the article, brought about the type known as lager, which is fermented at low temperatures and was first made by Bavarians in the 15th Century and is today one of the world's most popular alcoholic drinks.
In fact, scientists and brewers have long known that this particular yeast is a hybrid, but only a part of the story of the yeast was fully understood. One of the components, Saccharomyces cerevisiae, was well established in the world of science but a second component, which gives lager the ability to ferment in cold, continued to be a mystery because scientists had been unable to find it among some one thousand species of yeast known to man.
"Scientists have been searching for this yeast for decades," says Chris Todd Hittinger, scientist at the University of Wisconsin-Madison.
The 'new' yeast, Saccharomyces eubayanus, was discovered as part of an intensive search led by José Sampaio and Paula Gonçalves of the New University of Lisbon. The Portuguese team analysed European collections of yeasts, the scientific literature available, and they identified new yeasts, but only in Europe. Still, no European candidates were forthcoming.
At work in Patagonia
So they extended their search to other parts of the world, working closely with Diego Libkind, of the National Council of Scientific Research and Technology in Argentina. It was through him that it was thought that the galls (the name for those orange 'balls' in the picture above) that infected the beech trees in Patagonia might contain a candidate.
"The beech galls are very rich in sugars, an ideal habitat for yeasts," says Hittinger. For his part, Libkind adds that the yeasts are so active that they ferment spontaneously, adding, "When they over-mature, they fall to the ground (in the forest) where they often form a thick carpet that smells heavily of ethanol, most probably owing to the presence of Saccharomyces eubayanus."
The Colorado team also identified genetic mutations in the hybrid lager yeast. These changes (which occur during brewing) have accumulated since the immigrant yeast combined with the yeast used for brewing ale (at much higher temperatures) some 500 years ago, thus perfecting the lager yeast's ability to metabolise with the sugar and malt, to produce sulphytes.








Cheers!
© 2011 Alberto Bullrich