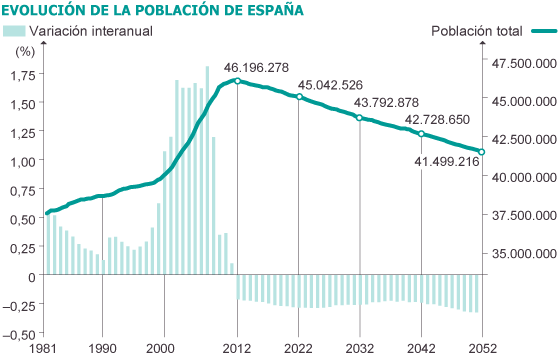 SPAIN
The registered population of Spain totals 47,059,533 inhabitants, which is 205,788 less than in 2012, and attributable to a 3.8% drop in the number of registered foreigners. This is the first time the population has dropped since 1996, the first year official statistics were published. The number of registered foreigners came down by 216,125 (that 3.8%) through 2012, and now total 5,520,133, while the number of Spanish-born was up by 10,337 (or 0.02%). This according to the Nastional Statistic Institute's Continuous Register, which also says that 11.7% of all people registered in Spain are foreigners, and 2.4 million come from the European Union.>>>
The principal reason behind the exodus is very likely to be lack of employment opportunities caused by the financial crisis that has been going on since 2008.
Among those choosing to leave the country, nationals from EU member states other than Spain amount to 90,639, which brings the numbers of these staying behind to a total of 2,352,978. Some 125,486 former residents of Spain that do not belong to EU member states were among those leaving, which brings their total to 3,167,155.
85.9% of registered inhabitants were born in Spain, and the remaining 14.1% were not.