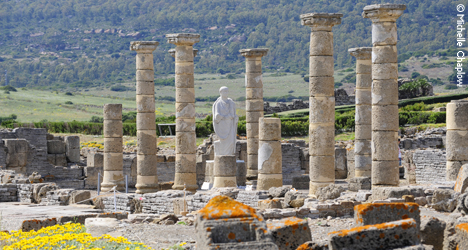 Baelo Claudia
TARIFA
The museum at the Baelo Claudia Roman Ruins site near Bolonia (officially,
Conjunto Arqueológico de Baelo Claudia
) is holding an exhibition of sea fishing equipment as used by Phoenicians and Romans, and therefore as used in Andalucía. Called
'Pescar con arte. Fenicios y romanos en el origen de los aparejos andaluces',
it is on until July 31, 2012 and is described as a 'journey' that, although centered on the stretch between Bolonia and Algeciras, it also travels through the Mediterranean, from the Algarve to Sicily, via North Africa, 'in antiquity', showing the links between the different (or not-so-different) cultures and their influence upon each other. Several museums have cooperated in allowing 'priceless' objects to be shown, and there is information, too, from some 15 archaeological sites all over Andalucía.
Worth
seeing, we think. (note for Spanish Conversation students: the word arte means 'art', yes, but it is also applied to fishing tackle, particularly of the type used in the Straits area - fishing being an art, according to fishing people of our acquaintance.)