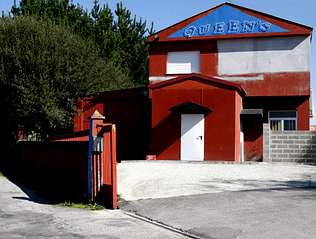 Where it all began
Sex workers tell all · All parties allegedly involved
GALICIA
Dozens of South American women, from the depths of poverty and a short, desperate life behind them, were the first witnesses of what has turned out to be a web of alleged corporate, political and security authorities corruption cases uncovered over the last couple of years by two judges in Lugo, Galicia. If they could talk, the back rooms and bar at Queen's would testify to rivers of cash for deals that supposedly involve politicians, of the PP, PSOE and BNG, and their allies. The crossover infection that has been suppurating from the two courts includes agents of the Policía Nacional and Guardia Civil (Operación Carioca), important political figures such as
COMING SOON:SUBSCRIPTION INFORMATION
exMinister José Blanco (Operación Campeón) and others involved in a new operation that comes flashing up a month before regional elections in Galicia (Operación Pokémon). The deals are all similar: favoured contracts, bribes and supposedly secret police information.
Queen's was the operational base for a notorious pimp called José Manuel García Adán, now in prison, who brought his business from lucrative roadside brothels in Pontevedra, to Lugo. He carefully and consistently cultivated excellent contacts and relationships with senior police officers, politicians and businessmen He managed to avoid parking tickets and municipal fines, and could get his parking lot tarmacked at short notice; he got advance notice of police activity and had no problems with municipal licences and permits, nor with the immigration paperwork for his mostly foreign workforce.
It was this connivance, oiled by the diligence or passivity of civil servants, police officers and top level administration figures that gave way to Operación Carioca (called that because many of his girls were from Brazil, where a native of Rio is a Carioca). It is a big case under the management of Judge Pilar de Lara, who(not entirely coincidentally) started another case, Pokémon, ordered the detention of 23 paople, including the Mayors of Ourense, Francisco Rodríguez (PSOE), and of Boqueixón, Adolfo Gacio (PP), plus several councillors and a number of businessmen. Many of these were released on bail last week.
The sex workers at Queen's tell of visits by high-ups such as Jorge Dorribo, the alleged brains behind the schemes involving contract and subsidy fraud and bribery called Operación Campeón. It was Dorribo who implicated ex Development Minister José Blanco (PSOE), which has in turn given rise to Operación Campeón which has also spilled over to Catalonia in the shape of Oriol Pujol, Secretary General of Convergència Democràtica de Catalunya (CDC), Oriol Pujol.
Condoms and sheets
Dorribo owns a pharmaceutical supply company that benefitted from his relationship with the brothel by providing a package deal for the women: a condom and a sheet at anything between three and five euros.
Other characters frequenting Queen's included one Javier Manuel Reguera -jailed last week-, who miraculously climbed from being a humble municipal employee to a successful real estate entrepreneur in a very short time. He happens to part own the land on which the brothel was built, as well as the building itself. It was his spectacular rise to riches at a time when new town planning regulations for Lugo were being processed that came to the attention of the judge, largely through his relationship with a Socialist politician who last week was jailed, charged with bribery, money laundering, influence peddling and embezzlement.
The witnesses at Queen's were given the opportunity of pointing out people they knew from several identification picture books that contained lots of photos of businessmen who allegedly paid bribes in Galicia to obtain public contracts. Their recognition brought about the arrests in Operación Pokémon.
There is much more to all of this and it will be steadily flooding out of the documents of all three cases. But one thing has leaked about the people involved: not a single woman is among them.